Two suspected criminals were shot in the legs after snatching a policeman's mobile phone along the Thika Super Highway in Nairobi.
A statement from Directorate of Criminal Investigations (DCI), said the suspects were injured by gunfire and beaten by angry boda boda riders.
The duo recuperate at a city hospital after their botched mission with DCI stating that the suspects defied orders to arrest after robbing the undercover agent.
An undated photo of a person holding a gun.
To file
In the statement, the DCI explained that the detectives opened fire and the criminals were each shot in the legs to restrain them but they braved the wounds and fled towards Ruaraka.
"The two thugs whose lives are at stake are currently being treated at a city hospital, while Starehe-based detectives await their release to slap them with appropriate charges, in strict accordance with the law," the statement reads in part. press release from the DCI.
According to the DCI, the two suspects were holding up motorists and residents along Thika Road when they snatched the mobile phone from the plainclothes policeman, who was driving a civilian vehicle.
"Theft suspects who shamelessly snatched mobile phones from motorists at the Allsopps Interchange last night met Chief Inspector Elizabeth Lumumba in her element after snatching a mobile phone from her driver, Corporal Hassan Mbwana.
"The suspects stole their valuables from other motorists, taking advantage of the interchange's characteristic traffic build-up during rush hour. But in the event the hunter fell prey, Elizabeth tethered to the anti branch -DCI narcotics and another officer in the back seat jumped out of the vehicle, pulled out his guns and fired two shots at the thugs after they defied orders to stop," said the DCI.
When motorists saw the officers pursuing the gang, they also got out of their vehicles and gave chase. Luckily, the boda boda riders assaulted the criminals and the detectives were able to stop them.
"This attracted the attention of other motorists who, emboldened by the presence of the detectives, also jumped out of their vehicles and joined in the pursuit, unaware of the danger they had exposed themselves to.
"Torn between urging motorists to stay in their vehicles or pursuing suspects, Elizabeth chose the latter as the crowd had been joined by furious 'nduthi' men who cornered the thugs just yards away," the DCI added. .
According to the DCI, the crowd overpowered the police and the boda boda riders beat the suspects who were injured in the face.
"The two detectives' pleas to let the law take its course fell on deaf ears as the 'nduthi' men continued their attack accusing the thugs of tarnishing their good names by using motorbikes to commit crimes. crimes.
"It took the intervention of the officer commanding the Ruaraka Police Station and a contingent of his officers to calm the furious mob and rescue the suspects, from their moment of death which had already beckoned," told the DCI.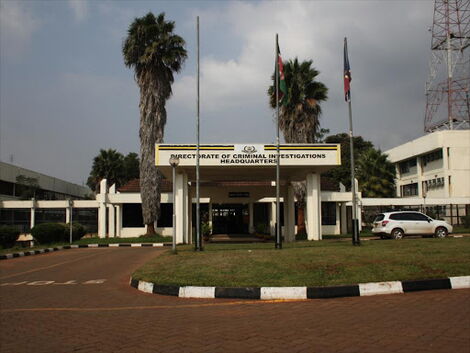 A file image of the DCI headquarters along Kiambu Road
Facebook
criminal death firearm Fire Stop thug suspect