President and CEO of aircraft tray table innovator SmartTray International Nick Pajic heads to next week's Aircraft Interiors Expo in Hamburg with a new spring in his approach to the outlook for the company to accelerate the exit from the COVID-19 crisis by making the hands of airline passengers even easier. free use of gadgets.
"The COVID-19 pandemic has been devastating for transit companies and SmartTray has been no exception. The good news, not only have we survived and are on the way to a full recovery, but we are also on the right track to have [a] banner year," Pajic told Runway Girl Network.
He reveals that the company is in talks with some aircraft seat manufacturers about licensing its patented technology with them.
SmartTray's personal electronic device (PED) holders, which are integrated into trays and seats, have been available in aviation – and indeed other industries – for a decade. Several airlines have already deployed the technology in various iterations; United, for example.
In April 2015, Astronics Corporation entered into a license agreement which provided exclusive rights to market, sell, use and manufacture the SmartTray patents in aviation. And over the years that followed, the integrated electricity provider featured various integrations, including an intriguing docking station type wireless charging mechanism incorporated into a SmartTray PED holder for economy class. In April 2019, Astronics announced a sub-license agreement with HAECO Cabin Solutions to jointly integrate SmartTray's PED support technology into Vector of HAECO tray tables in the armrests of economy seats for the Airbus A350 product of a major international carrier.
Astronics and SmartTray's exclusive license agreement ended in May 2019, according to Pajic, and Astronics converted to a non-exclusive patent license agreement in June 2019 "allowing Astronics and SmartTray to market, sell, Freely use and manufacture SmartTray Integrated PED Mounts for any airline, seat OEM, MRO, IFE service providers, aftermarket seat suppliers, FAA/EASA approved repair stations, including seat supply suppliers.
"Land/water verticals such as passenger trains, coaches, cruise ships and ferries were not allowed, which SmartTray reserved," he says.
It appears that Astronics no longer features SmartTray technology on its website. The company could not immediately be reached for comment on its relationship with SmartTray.
Pajic said that as the two parties moved to a non-exclusive patent licensing agreement, he focused on finishing non-aerodynamic projects, including at Facebook's campus in Menlo Park, Calif., as well as for Ford and the Lincoln Continental Coach Door Edition car.
"It was a hit with Facebook employees – they loved it. Before SmartTray, their employees had to place their laptops and tablets on their laps; then they could use PED holders built into the tray tables and [the] back of the seats to place their smartphones and tables and use them hands-free," explains Pajic.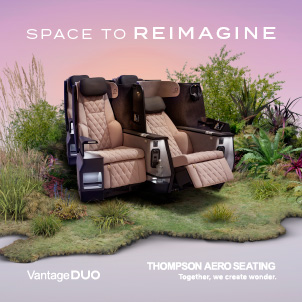 Now that SmartTray is gearing up for an aviation rebound, it is confident of signing new integration agreements with aircraft seat manufacturers and expects to make announcements in the near future.
The company is coming to market with a more direct approach at a time when passengers increasingly expect to be able to comfortably watch their own content in-flight, as well as take advantage of onboard entertainment and wireless connectivity services airlines via their PEDs. Passengers also complete a second check using their mobile devices while watching the IFE screens installed in their seat. All of SmartTray's solutions offer travelers a more ergonomic way to use their PED.
Supported by a strong patent portfolio, SmartTray's branded X-Series features an economy seatback-mounted tray table that facilitates hands-free use of smartphones and tablets in proprietary PED holders; as well as seat back and PED supports in the arms for economy and premium class with mechanisms that automatically expand and retract to the thickness of popular devices.
Recent new products include the so-called SmartTray X5, an integrated tray table with patented kickstands that support a wide range of devices and different screen viewing angles; plus the X7, a telescoping PED stand designed to fit into compact spaces.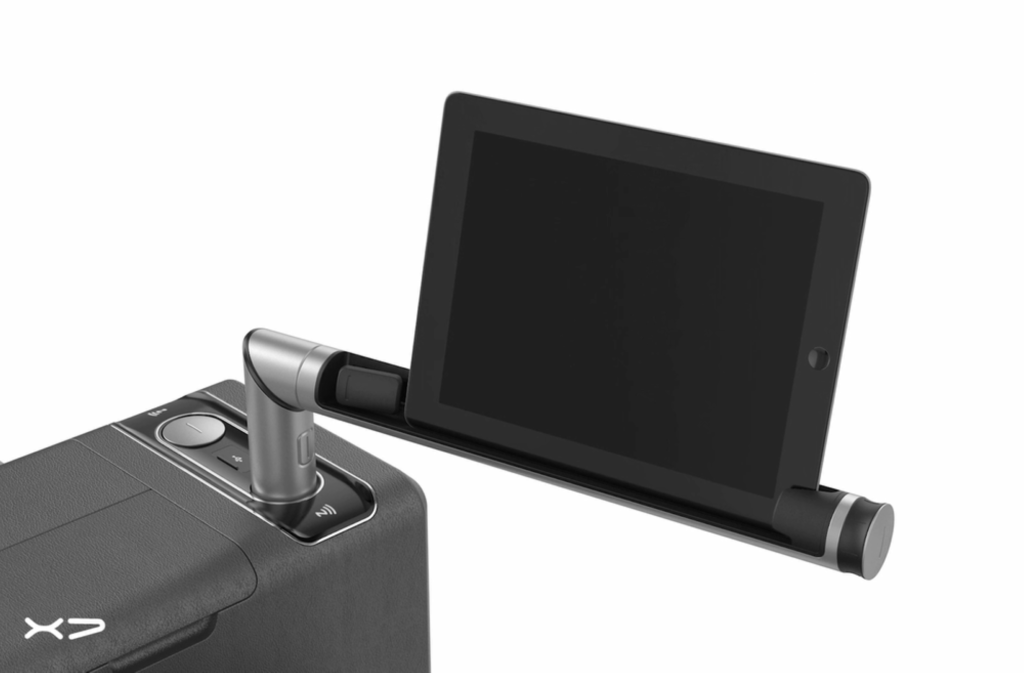 Aero Foam Industries, which has manufactured over 8,000 trays for SmartTray integrations, will be showcasing SmartTray technology at its booth (5A50) at the Aircraft Interiors Expo in Hamburg. Prior to the show, SmartTray has announced the launch of its patent-pending QR code encoded advertisements on its PED-enabled trays to generate ancillary revenue for airlines.
Related Articles:
All X7 photos credited to SmartTray