[ad_1]
With the rapid pace of innovation and easy accessibility, the adoption of new technologies has increased over the years as we tend to frequently replace our old gadgets and electronics with the latest. We rarely pay attention to the end of the life cycle of our products and often throw them away by accident.
With the commitment to build a greener ecosystem and as part of the International E-Waste Day held on October 14, Taiwanese tech giant ASUS India today announced a new initiative, #DiscardResponsably , to create a sense of responsibility among citizens.
The new CSR initiative is a step towards building a sustainable environment by raising awareness of the impact of careless dumping of electronic waste on the environment and at the same time enabling citizens to dispose of their electronic waste wisely.
A digital consumer engagement activity is also planned in which two winners have a chance to win exciting ASUS giveaways. The campaign will be launched on International E-Waste Day on October 14 and will run until October 31.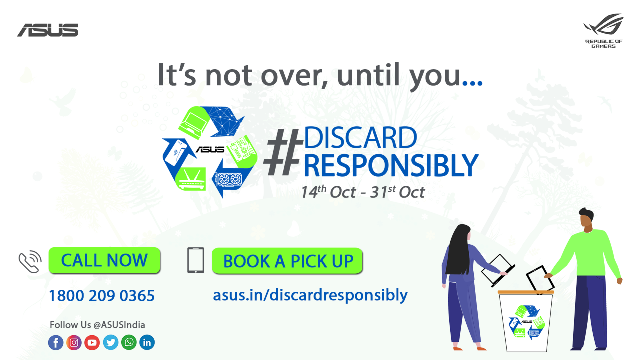 ASUS's #DiscardResponsably is an effort not only to educate and raise awareness, but also to help consumers dispose of their e-waste responsibly, by offering free home collection of gadgets thrown across India during the period. the country.
ASUS released a toll-free number and microsite to effectively activate the e-waste management reader. All consumers have to do is call the toll free number 1800 2090 365 or visit
https://asus.in/discardresponsably/

provide their information such as name, contact number, email and address to schedule a pickup time, after which ASUS representatives will come to collect electronic waste from their homes.
ASUS is also running the #DiscardResponsably campaign through its retail network to raise awareness as much as possible. Sales representatives will inform walk-in customers of the initiative and the simple steps for contacting ASUS to collect their e-waste.
Commenting on the campaign, Leon Yu, Regional Director, System Business Group, Asus India and South Asia, said: "According to a recent UN report, the amounts of electronic waste are growing 3 times faster than the world's population. and 13% faster than global GDP over the past five years. More cooperative efforts are needed to raise awareness of this growing problem and take appropriate countermeasures supported by appropriate research and training. In our effort to build a sustainable environment for a bright future, we are deploying the #DiscardResponsably initiative enabling safe collection and disposal of electronic waste. Through this campaign, we aim to raise awareness and at the same time encourage people to take responsibility for their ecosystem by adopting environmentally friendly practices.
In addition to motivating people to come forward to create an e-waste-free environment, ASUS is also running an exciting contest as part of the campaign, where people have to click on an image while throwing their e-waste on ASUS and post it on social media platforms, using #DiscardResponsably, the #ASUS hashtags and the ASUS India tag. Two lucky participants, generating maximum engagement around e-waste on their post during the 18-day campaign period, will have a chance to win ASUS giveaways.
The request for collection of E-Waste can be made by the following means:
Number free of charge

– 1800 2090 365
Website

– https://asus.in/discardresponsably/
People who wish to throw away their e-waste after October 31, 2021 can continue to contact the toll-free number 1800 2090 365 for information on ASUS India disposable centers across the country.
Disclaimer: This press release is automatically generated. The CSR Journal is not responsible for the content
[ad_2]