Dairy Barn first opened at 121 S. Main St. in downtown Oswego at 4 p.m. on March 8.
The location of the ice cream shop and restaurant should be nostalgic for many area residents, as it sits on the site once the longtime home of the Dairy Hut.
With the opening of Dairy Barn, residents of the Oswego area can once again enjoy old-fashioned ice cream and groceries in a family-friendly setting, but with a few tweaks that bring the experience into modern times.
The Dairy Barn will be open year-round, serving food and ice cream, providing entertainment for the whole family, and serving "adult" shakes and slushes.
The 'cabin' had been a summer institution on the main street of the village since 1962, when it opened as the Dairy Boat Ice Cream Stand, but closed permanently in the fall of 2019.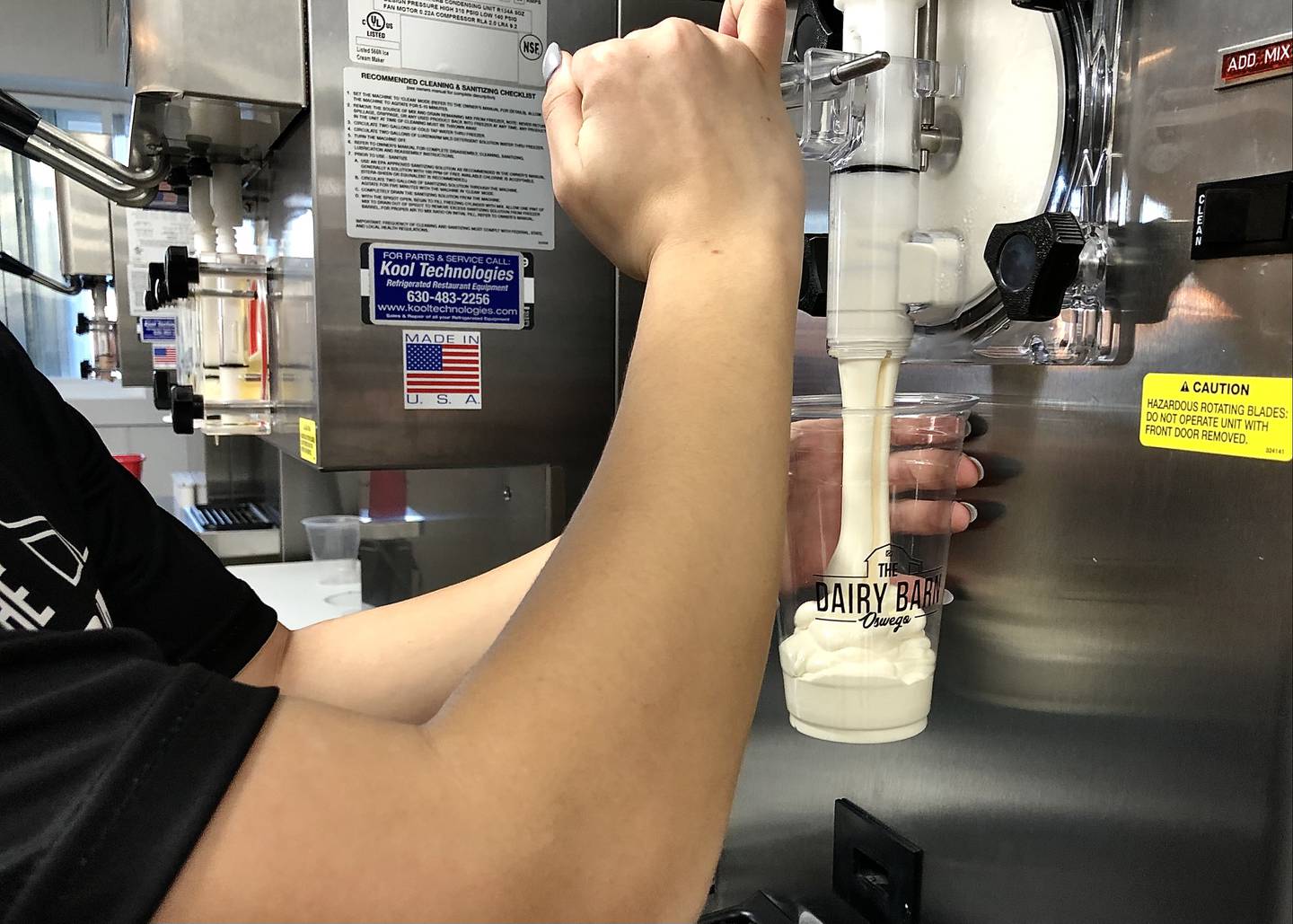 Shortly thereafter, Imperial Investments LLC purchased and demolished the building, clearing the site for the Dairy Barn.
Partners Mike Mann and Rick Tollefson founded Turn 2 LLC in 2020, the company that operates Dairy Barn and neighboring restaurant 113 Main, which opened last fall.
Construction of the Dairy Barn began around this time last year and has been repeatedly delayed due to what Mann said are COVID-19-induced supply chain issues.
After experiencing delays with ice cream machines and HVAC equipment, they pushed back the opening date three times, but are now happy to open in time for spring, according to Mann.
The food menu will initially be limited with classic kid-friendly American dishes like burgers, hot dogs, chicken fingers and fries, but will expand and change based on customer feedback.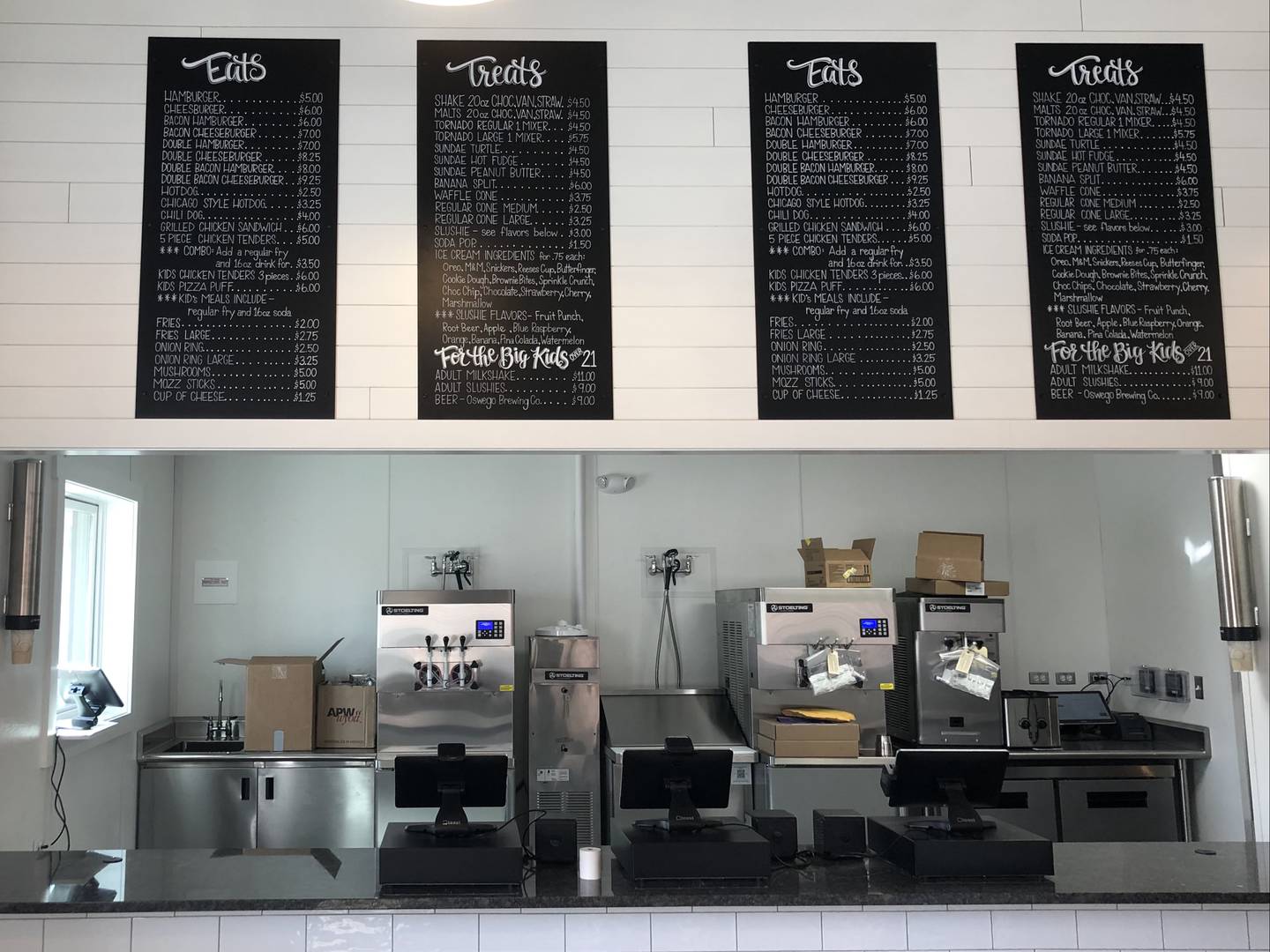 The ice cream menu will include all the favourites: cones, shakes, malts and sundaes, but will also feature a "For the Big Kids" section with milkshakes and slushies for customers over 21.
There's a stage inside the new restaurant, with plans for Friday and Saturday night entertainment, magicians and children's story time, and other upcoming projects.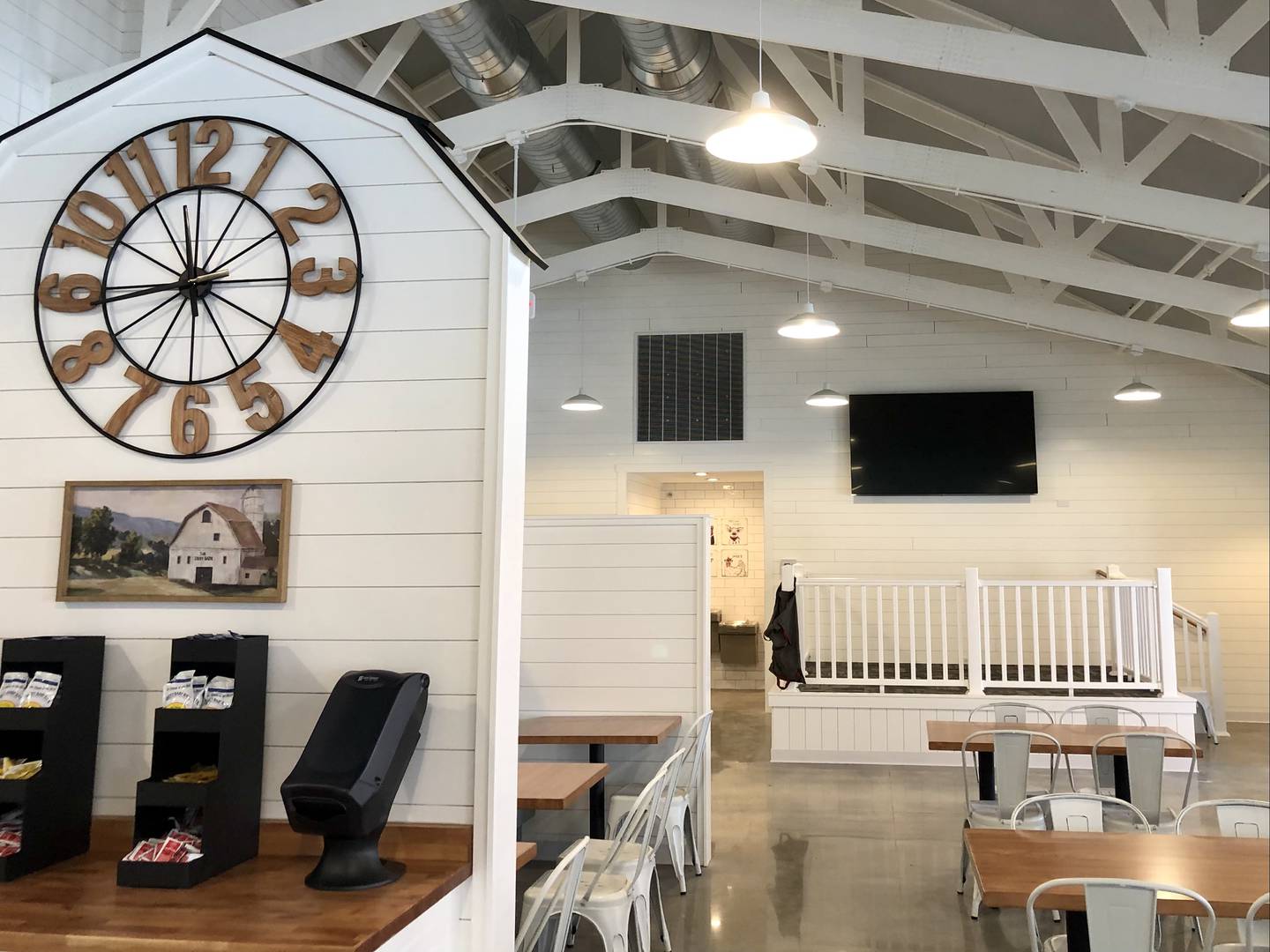 Mann said that while they wanted to make the Dairy Barn a year-round institution with a new business model, they also wanted those who enjoyed the Dairy Hut to feel like its tradition was being honored.
Mann said he had been a customer of the Dairy Hut for 42 years – since he was 7 – before it closed three years ago, and while he enjoyed the ice cream stand, his business model was no longer viable in today's market.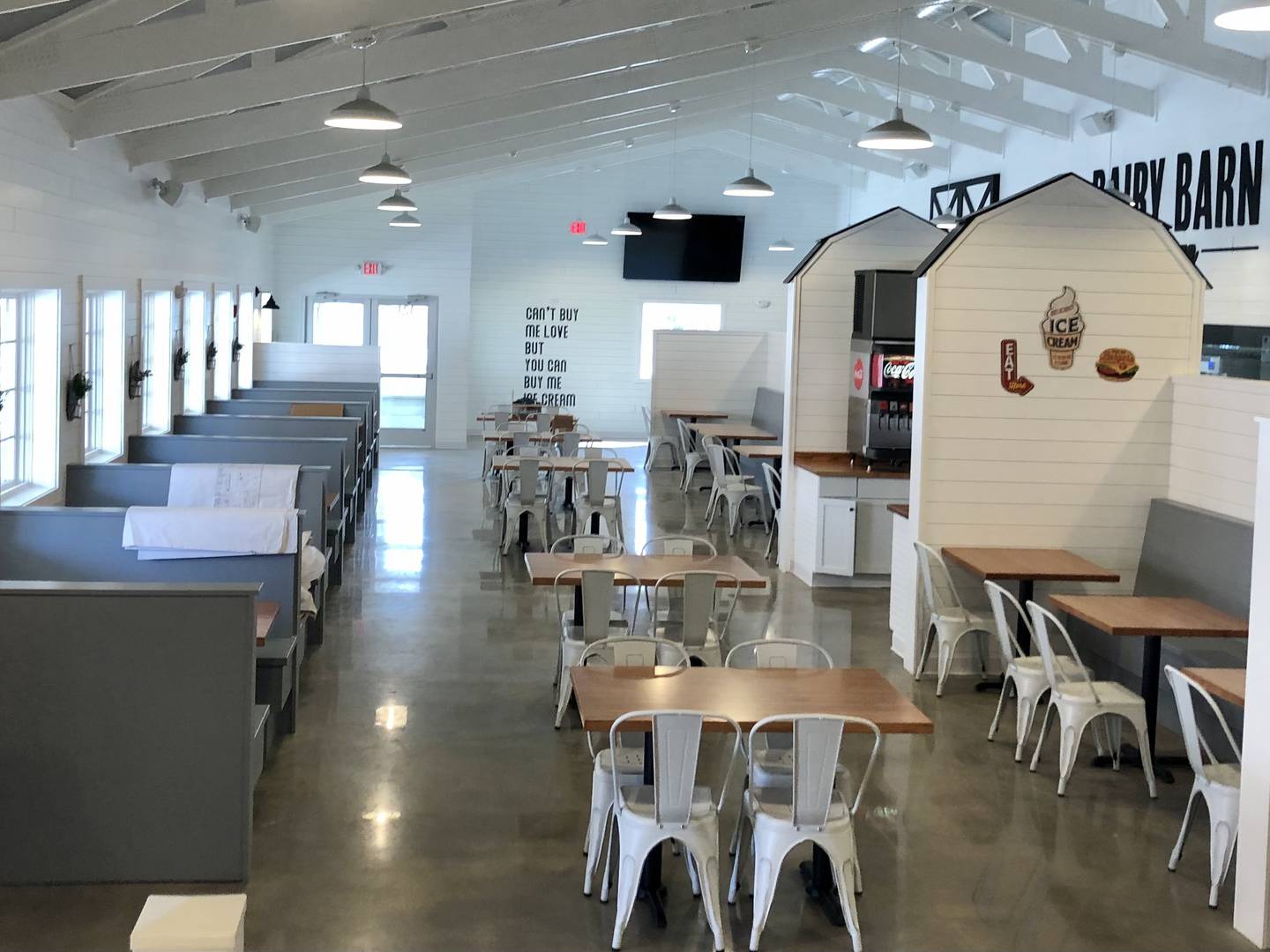 "For new residents arriving, this will be a great place to bring family," Mann said. "To those who will miss the Dairy Hut, me too."
There are plans for a wall of old Dairy Hut photographs near the entrance, and TVs showing classic cartoons with farming themes.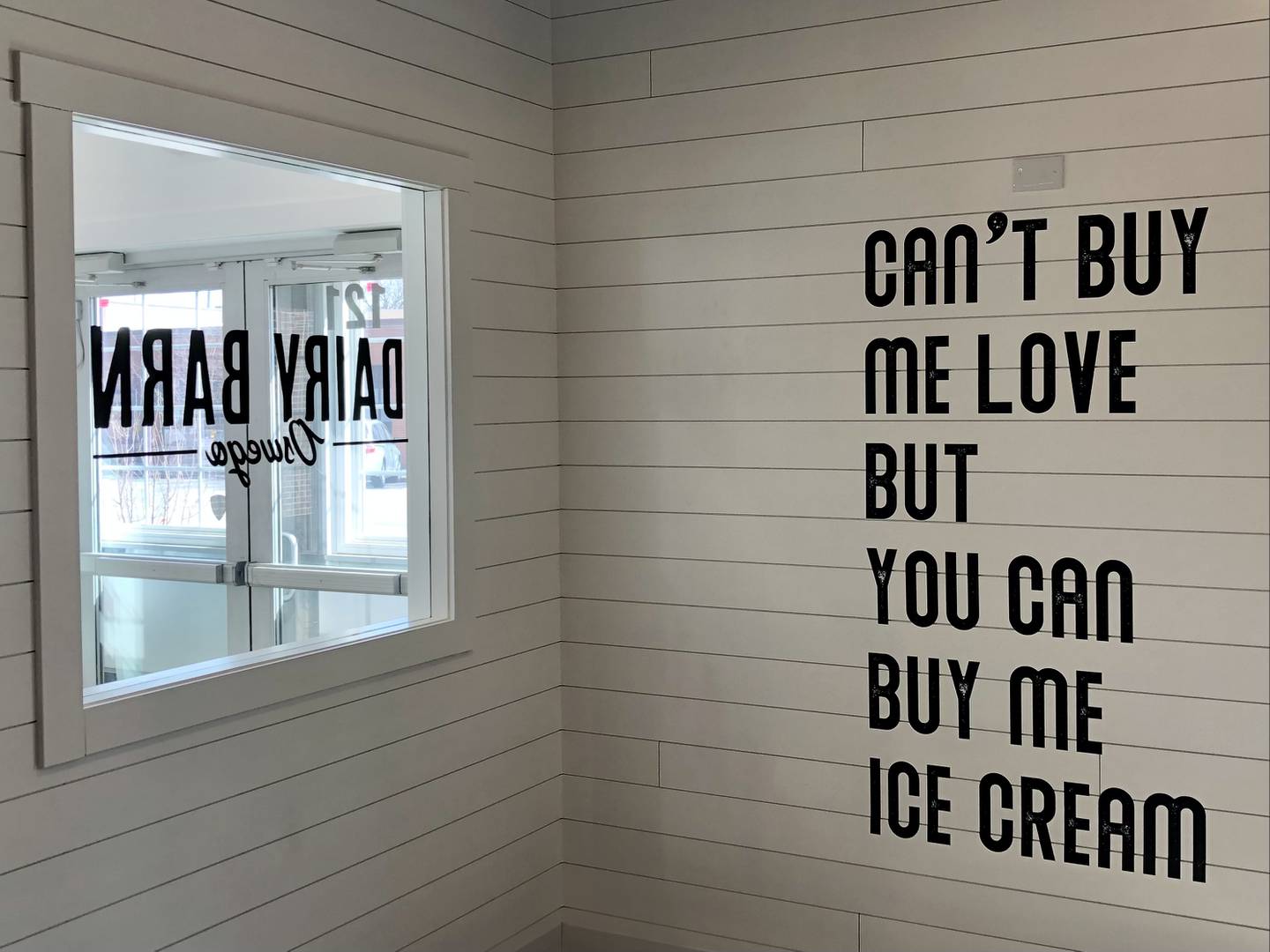 "We want to celebrate what it was," Mann said, "It's just something that brings it into modern times."
The Dairy Barn will accommodate up to 100 customers indoors and 50 outdoors, and staff have been trained to open with seasonal hours.
Mann said that because many staff are at school, hours will initially be 4 p.m. to 8 p.m. to 10 p.m., depending on the day, and are subject to change depending on staff. Oswego residents should check the Dairy Barn Facebook page for up-to-date hours and information.
Dairy Barn is a short walk from the Hudson Crossing parking garage, and the village plans to create 17 additional parking spaces on Main Street this summer. Village officials continue to work with the Illinois Department of Transportation to have traffic lights installed at the intersection of Main and Washington Streets (Route 34).